Let's face it – bread is delicious. Prior to the keto diet, you likely enjoyed a sandwich at least now-and-then. There's nothing like a piece of full grain bread, topped with some tomato, cheese, cucumber, and maybe even a few slices of avocado.
Unfortunately, once you decided to do the keto diet, you are suddenly told to stop buying bread at your local supermarket. The thing is, regular breads – including the whole grain varieties – are loaded with carbs. With the keto diet, you are trying to reduce your carb intake.
No need to fear the keto diet, however – as you can still enjoy a delicious home-baked bread. We look at some of the top keto bread recipes in this post. Take a look at them and be sure to give one of them a try – they are definitely worth the effort.
Ingredients
1 ¾ ground psyllium husk powder
1 ¼ almond flour
1 tsp sea salt
3 egg whites
2 tsp baking powder
2 tsp cider vinegar
2 tbsp sesame seeds (optional)
Instructions
Preheat your oven to 350 degrees Fahrenheit
Mix all the dry ingredients into your mixing bowl. Wait until the water is to boiling temperature.
Now add your vinegar and egg whites into the bowl with your dry ingredients and mix it well. Add boiled water. You can either mix with your hand or a electric hand mixer for 30 seconds. Be careful not to mix the dough to long.
Now moisten your hands a little bit with olive oil so that the dough do not stick on to your hands. Separate the dough in to 6 rolls. Place the rolls on your on your greased baking sheet. Noe top it with the optional sesame seeds.
Depending on the size of the rolls you should put it on the lower or middle rack of your oven. Bake in the oven for 50-50 minutes. The bread rolls will be done when you hear a hollow sound when you tap with a spoon on the bottom of the bun.
Ingredients
6 large eggs
¼ butter. It must be cooled and melted
½ tsp cream of tartar
1 tbsp baking powder
1 ½ cup of ground almond flour
½ tsp of kosher salt
Directions
Firstly preheat your oven to 375 F and if you have an 8-4 loaf pan, with parchment paper. You can use any size of pan. Then separate the egg yolks and whites.
Combine the cream of tartar and egg whites in a large mixing bowl. With a hand mixer beat the cream of tartar and egg whites until stiff peaks for at the top layer.
Take a separate bowl and use your hand mixer again to beat the egg yolks with the melted butter, salt, baking powder and almond flower. Start with a 1/3 of the whipped eggs and work it slowly in. Add the rest of the whipped eggs.
Pour the batter you just made in a loaf pan and smooth down the top. Let the batter bake in the over for 30 mins or until its brown.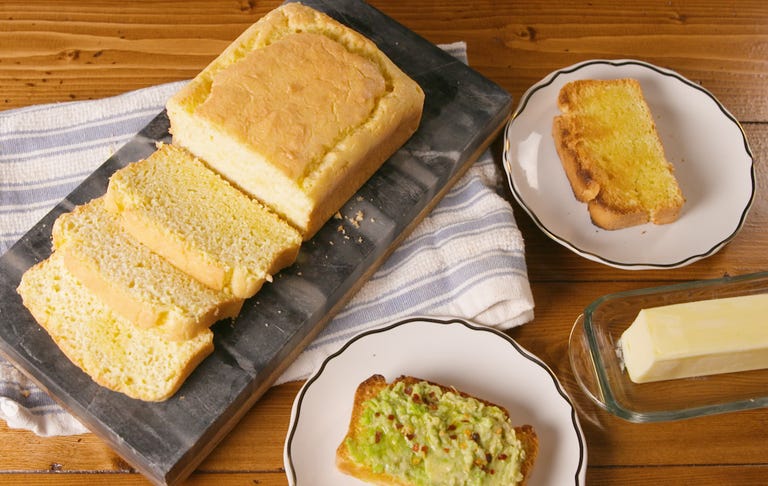 Ingredients
You can either use a tbsp coconut flour or 3 tbsp of almond flour
1 egg
½ tspn baking powder
1tbsp oil or butter
Instructions
Melt the butter in a microwave safe bowl, cup or ramekin. Add in the baking powder, almond flour and eggs. Beat the mixture with a fork until it is mixed thoroughly.
Microwave the mixture for about 90 seconds. Loosen the mixture and flip it onto a plate. You can also toast it in a toaster.
Preheat your oven 375 F. You can bake the mixture in a ramekin or oven safe bowl, the bowl will take longer, for 10-12 minutes or until it is cooked through.
Ingredients
6-7 eggs
2 tbsp of olive oil
Cooking spray
1 tsp baking flower
Almond flour (2 cups blanched)
½ a cup of melted butter
½ tspn xanthan gum
½ tspn sea salt
Directions
Before you begin preheat the oven to 350 F. You should then grease a silicone pan with your cooking spray
Whisk your eggs in a bowl for 3 minutes utils its smooth. Add the melted butter and olive oil and mix well
Combine your salt, baking powder, xanthan gum and almond flour well in another bowl. Add moderately to egg mixture and mix until a batter is formed
Pour the batter in the pan that you prepared and bake in the oven for about 45 minutes or until a toothpick comes out clean